Below is the AP story about a tragic incident at my Alma Mater, Hampshire College, a protest suicide on closed circuit campus TV. I had never met Mr. Hermann, but the rest of the cast and crew were all friends, a de facto artist collaborative, if you will. The group is best known for the roots grunge band 'Supreme Dicks'. I was the 'manager' of said group - as much for fun as anything, but I did do one good event for the group (co-organized with Phil Jackson, the show's production manager). NYC marketeer John Mitchell would later make a similar effort, even booking them on a short European tour.
Though the tape of the incident was sought after by the 'Faces of Death' folks it was confiscated, under threat, by the Campus Administration. I don't know if my experience at Hampshire was listed in Mr. Hermann's speech, but it was certainly part of the general problem.
FWIW I'd guess the tape does still exist somewhere.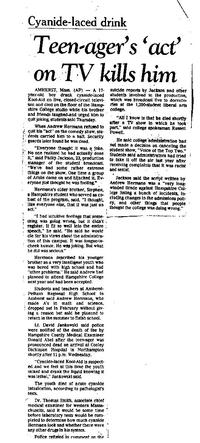 Here's the poster for the memorial for Andrew, modeled after that same event Phil and I co-produced. See also this story.