As I recall neighborhood matching funds were started in Seattle. I believe they were either Ford Foundation supported or the Foundation noted their success in the first year.
This was just as I was finishing off my degree (at 24) and I got involved. As a side project I did a proposal for a tree planting in Squire Park, between Seattle University and 23rd. I believe this was the first of its sort. I was not involved in the implementation - as I recall the project was completed by the YMCA led by Richard Conlin, now a Seattle City Councilmember.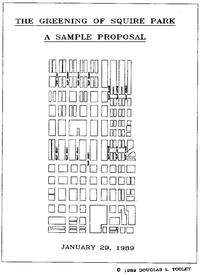 One of the things this project did was give me my first opportunity at trying out Geographic Information Services. The graphics here are rough, but they are functional.