This isn't a letter I'd write today, however I do support congestion pricing with some sort of expenditure control. In my opinion the revenue need not be limited, controlled, to just autos or the specific segment of road where it is generated, but it definitely should be spent in the same corridor and general area.
How one legally defines that is tougher, especially when you've got a whole lot of people making a living off of loopholes.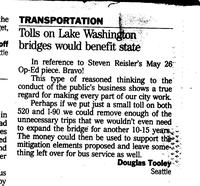 At the time this was writ I was still a Sound Transit Supporter - a big booster immediately after the 1995 ballot failure. However the seeds of my conversion were well in place by this point.