Twas in Seattle for a bit of a December regional conniviality (sp?) at the Puget Sound Regional Council. The PSRC is just completing another volume of their decade by decade planning document for the bookshelf, and, more importantly, making decisions on funding for the next few years of Transportation funding, both road and transit.
The PSRC does not have real authority, but it is mandated by the Feds as a condition for their dollars, so, the influence is substantial. They attract some of the region's finest electeds, and, unfortunately also, some of the the easiest to manipulate on financial matters. They well may end up being the brokers on the viaduct deal and the approvers of 'economic recovery' monies, the first phase of which is in the pipeline. (500 million for the State, 150 million for the region, tops, if I recall correctly.)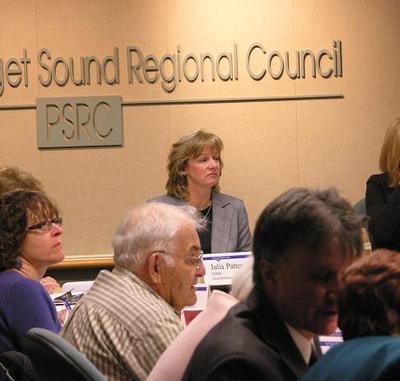 This is the chair of the Transportation Committee, Julia Patterson - she got her start towards the end of my five plus years as an active friend of the group. Patterson doesn't look to happy, she's reacting to a bit of a play by Mark Weed, chair of the Greater Seattle Chamber of Commerce's Transportation Committee, in the tone of their recent efforts to push through their preferred alternative for the Viaduct, without paying for it.
Weed's gambit regarded some minor detail of the calculation of the baseline for the 520 bridge, after which he left, in a small huff.
His point didn't make any sense, as I perceived one of the board members pointed out with a tastefully discreet wry comment. Perhaps Mr. Weed, you should take some time to educate yourself on such expensive capital questions before you open your mouth, and OUR WALLETS.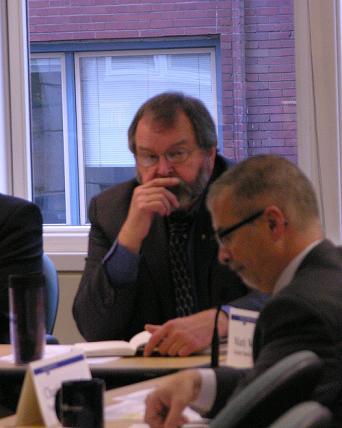 This is Terry Flaherty, with the Beard, and Charlie Howard, the new Transportation Planning director. Howard replaces King Cushman, a favorite of mine, and former Pierce County Transit Director. I've no opinion on Howard, though his boss is definitely a bad apple.
Flaherty is a new, representing both the South King and Pierce County Chambers. His big priority is the extension of Hwy 167 between the Port of Tacoma and Puyallup/South King County. I agree with that priority, and he did a great job at both introducing himself and communicating that objective.
Also present was long time number two engineer Tom Jones of HDR, claiming his private sector team could halve the projected costs of the PSRC preliminary engineering for the Eastside rail corridor - a big bonus for those of us in the South, if they connect us directly to Bellevue, etc.
(BTW, it was good to see the long standing PSRC Staff - I was hoping to get a picture of Drewel so was focused on some of those concerns when I arrived - he wasn't there, and the experience was much like seeing old friends, instead.)